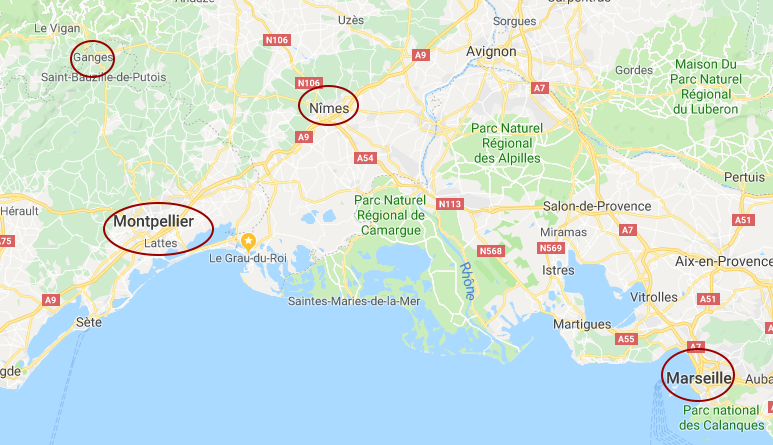 General remarks
Be aware that Nimes and Montpellier both have 2 train stations.
The new stations are located at the outer edge of the cities. For Montpellier: 'Gare Sud de France', for Nimes: 'Gare Pont du Gard'.
The train stations that serve the center are in Montpellier: 'Gare Saint Roche', and in Nimes: 'Gare Routiere'.
Non-european travelers best get Euros out of the cash machine at the airport on arrival. Currency change offices are rare and France still operates for a large part on cash.
The bus drivers don't take cards and don't always carry enough change for paper money payments. Buy yourself a coffee at the airport to get some change.
Use the toilet at the airport since you might not get another chance along the way
Pronounce 'Ganges' in a french nasal way, not like the Indian river ;-)
from Montpellier Airport
update august 2023: currently there are works on the tram rails in Montpellier. You'll be asked to leave the tram at some point, walk alongside the works and hop on again at the next stop. Just follow the crowd
Find the Navette (= shuttle bus, every 30 minutes), outside the airport
buy a 'bus-et-tram' ticket from the driver in the navette (€2,60 – ask to go to Occitanie)
get off at Place de L'Europe
cross the road (but not the tram rails. Do check with fellow passengers, there are road works in 2023, i.e. sometimes the tram takes a different route)
get in Tram 1 (blue tram with white birds), direction MOSSON (every 10 minutes)
get off at Occitanie
at Occitanie, cross the tramlines and find the BUS stop for ligne 608 (direction Le Vigan) towards the far right
pay the driver €1,60
verify with him you're in the right bus to Ganges
get off at the stop MAIRIE
the ride to Ganges is approx 1 hour
! attention: 'Occitanie' is a tram/bus hub. There is no shop, bar or toilet!
The trip from the airport to Occitanie will take you about 40 minutes
from Montpellier train station (St. Roch)
update august 2023: currently there are works on the tram rails in Montpellier. You'll be asked to leave the tram at some point, walk alongside the works and hop on again at the next stop. Just follow the crowd
in front of the exit of the station walk to the street lined with high palm trees
on the right side of this street you find the stop for
Tram 1 (blue tram with white birds), direction MOSSON (every 10 minutes)
get off at Occitanie
cross the tramlines and find the BUS stop for ligne 608 (direction Le Vigan) towards the far right
pay the driver €1,60
verify with him you're in the right bus to Ganges
get off at the stop Mairie or Avenue Mont Aigoual
the ride to Ganges is approx 1 hour
! attention: 'Occitanie' is a tram/bus hub. There is no shop, bar or toilet!
The trip from the airport to Occitanie will take you about 40 minutes
from Montpellier train station (Gare du Sud)
update august 2023: currently there are works on the tram rails in Montpellier. You'll be asked to leave the tram at some point, walk alongside the works and hop on again at the next stop. Just follow the crowd
Find the Navette (= shuttle bus) outside the airport
buy a 'bus-et-tram' ticket from the driver in the navette (€2,60 – ask to go to Occitanie)
get off at Place de L'Europe (which is a busy road rather than a square)
cross the road (but not the tram rails)
get in Tram 1 (blue tram with white birds), direction MOSSON (every 10 minutes)
get off at Occitanie.
At Occitanie cross the tramlines and find the BUS stop for ligne 608 (direction Le Vigan) towards the far right
pay the driver €1,60
verify with him you're in the right bus to Ganges
get off at the stop MAIRIE or at Avenue Mont Aigoual
the ride to Ganges is approx 1 hour
Occitanie is a tram/bus hub. There is no shop, bar or toilet!
The trip from the airport to Occitanie will take you about 40 minutes
From Montpellier center
update august 2023: currently there are works on the tram rails in Montpellier. You'll be asked to leave the tram at some point, walk alongside the works and hop on again at the next stop. Just follow the crowd
You can make your way from the center of Montpellier to the tram/bus hub called Occitanie, by hopping on tram line 1 (blue with white birds) direction Mosson (get off at the stop Occitanie). These trams come every 10 minutes.
at Occitanie cross the tramlines and find the BUS stop for ligne 608 (direction Le Vigan) towards the far right
pay the driver €1,60
verify with him you're in the right bus to Ganges
get off at the stop Mairie or at Avenue Mont Aigoual
the ride to Ganges is approx 1 hour
from Nimes Airport
From Nimes Airport
Navette (=shuttle bus) to the Train Station Gare Routiere
leaves 10 minutes after a plane landed
Pay the driver €6,80 in cash
At Nimes train station (Gare Routiere) cross the road, at the far end to the right of the row of BUS stops, you'll find the
bus stop D140, direction LE VIGAN
buy a ticket from the driver, €1,60 in cash (and verify with him you're in the bus to Ganges)
get off at Ganges, Mairie or at Avenue Mont Aigoual
the ride from the station to Ganges takes about 1:15 minutes
if you have time to kill, walk through the train station towards the main entrance (the city center), have a coffee anywhere around the Roman Arena
from Nimes train station (Gare Routiere)
From Nimes train station
At Nimes train station (Gare Routiere) leave the station at the back side, at the far end to the right of the row of bus-stops (platform 13 or 14), you'll find the
bus stop D140, direction LE VIGAN
buy a ticket from the driver €1,60 in cash (and verify with him you're in the bus to Ganges)
get off at Ganges, Mairie or at Avenue Mont Aigoual
the ride from the station to Ganges takes about 1:15 minutes
if you have time to kill, walk through the train station , direction centre ville = front side, towards the city center, have a coffee anywhere around the Roman Arena
from Nimes train station (
New

: Gare Pont du Gard)
from Marseille airport
Exit the airport and walk to the area between T1 and T2 to find the stop for the
Navette (= shuttle bus) to Marseille train station, Gare St. Charles (every 10 minutes)
ticket is €10, in cash
ride takes about 25 minutes from Marseille airport to Marseille station
At the Marseille train station buy a ticket to Nimes, Gare Routiere (cost: between €15 -€30, journey to Nimes Gare Routiere takes approx. 1,5hours)
At Nimes train station (Gare Routiere) cross the road, at the far end to the left of the row of stops, you'll find the
bus stop D140, direction LE VIGAN
buy a ticket from the driver €1,60 in cash (and verify with him you're in the bus to Ganges)
get off at Ganges, Mairie or at Avenue Mont Aigoual
the bus ride from the train station in Nimes to Ganges takes about 1:15 minutes