How to Thrive in the Next Economy
Designing tomorrow's world today
Drawing on a lifetime of travel in search of real-world alternatives that work, I describe how communities the world over are creating a replacement, leave-things-better economy from the ground up.
Each chapter is about creative ways to tackle timeless needs that matter: restoring the land, sharing water, making homes, journeying, growing food, designing clothes, journeying, and caring for each other. I write of soil restorers and river keepers; seed savers and de-pavers; cloud commuters and e-bike couriers; care farmers; food system curators; fibershed stewards; money designers and more.
Read together, these examples add up to a joyful new story about what an economy is actually for. In place of an obsession with stuff, money, and endless growth, the book describes social practices that do more with less, and cherish all-of-life, not just human life. Growth, in this new economy, means soils, biodiversity and watersheds getting healthier, and communities more resilient. Its core values are stewardship and health, in place of extraction and decay.
"The vision in this book has the potential to transform our culture" Fred Kirschenmann
"Marvelous – so much to think and talk about at every point" Robin Murray
"No 3 in our top books for winter" Shareable
"Our powerhouse reading list for this year"
Forum for the Future
"Radical, relevant and accessible" Konst/Ig Books
"One of the most optimistic guidebooks for the future" Core77
"Gives meaning and purpose to young people" The Dirt
"Clear-eyed but ultimately optimistic"
San Francisco Book Review
"A visionary yet practical guide" Green Living
"Optimistic without being naive or utopian" Deco
"Addresses the 'why' of economic activity we've been lacking" Publishers Weekly
"Optimistic – small examples with potential to grow into something new" STBY Amsterdam
"A multitude of small actions that work" Abitare
"difficult to put down- a refreshing, powerful read" …
"a brilliant book – excellent questions, sound research, new directions for the near future" …
"life changing, thought provoking" …
"eye-opening book – hope in the future if we start taking action now" …
"an Inspiring view of the future" …
"fabulous!!! This inspiring & great book puts a real perspective on connectivity" …
"a great inspiration" …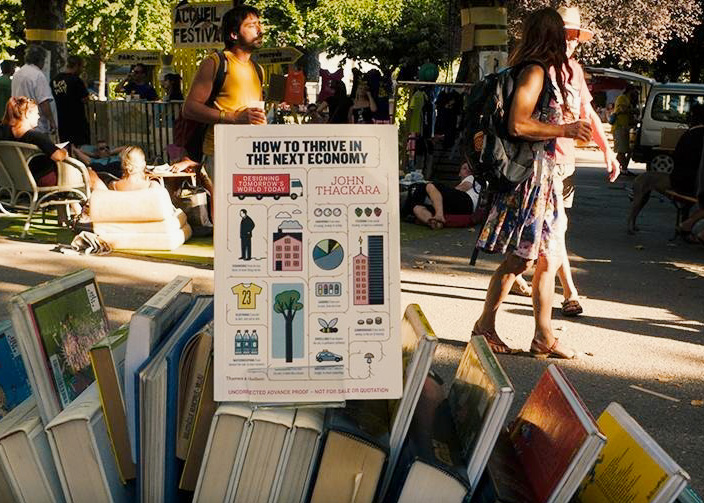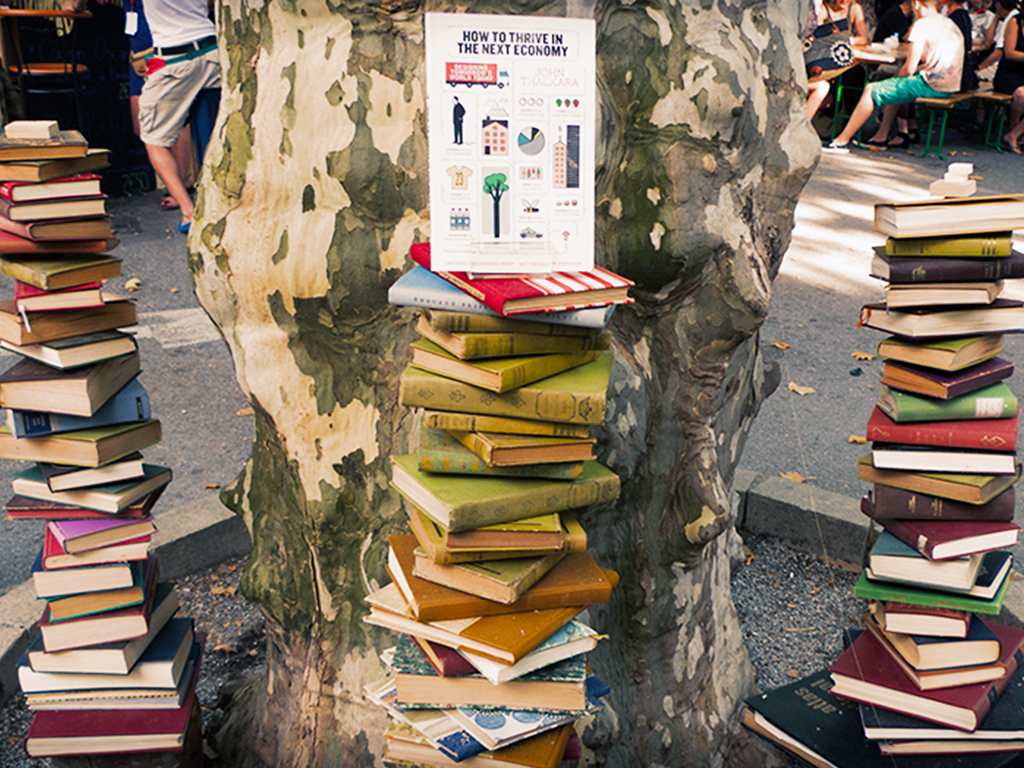 "Light in the gloom" Hugh Knowles "Restores my faith in humanity" Amy Twigger Holroyd "An economy in which life is valued more than money" Warren Hatter "Buy this book! It is wisdom incarnate" Ed Gillespie "Fab – explains why change is essential" Kate Fletcher"How the small be connected together to make the big" Verge"Fertile for microbusinesses" Upstarting "Escape from an economy that devours nature" Better Sydney "Brilliant: how communities around the world are building the next economy" Natalya Sveriensky A must read for #socialimpact: An economy in which life is valued more than money' Design Matters 'Leaving things better – growing a replacement economy from the ground up" SustainAbility "Amazing: full of data and real life experiences. Time to make a change" @LustForL1fe "Full of aspiration & ambition" Howard Silverman "A cause for celebration" Rory Hyde "A must-read" Andrew Zolli "Excited to see the future again" Lavrans Lovlie "it's great. I just ordered four" Chris Luebkeman "a smart read" Marcus Kirsch "Shows a new, upbeat world story taking shape" Form "A new economy that does not need to grow at all costs" The Guardian "Stacked full of examples that spark turnaround action" P2P Foundation "Enlightening…thoughtful vignettes… Recommended." Choice "local resilience – and global flows of information. Recommended " ReStart
Translations, How to Thrive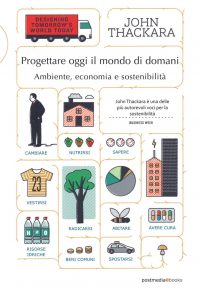 Progettare oggi il mondo di domani – Ambiente, economia e sostenibilità
postmediabooks.it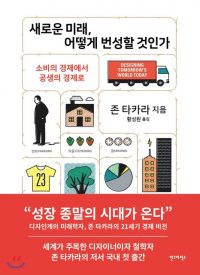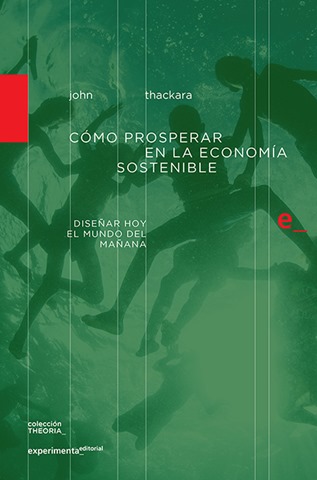 (…) para comprender la relación entre diseño e innovación social en el necesario empeño por construir un futuro sostenible. experimenta.es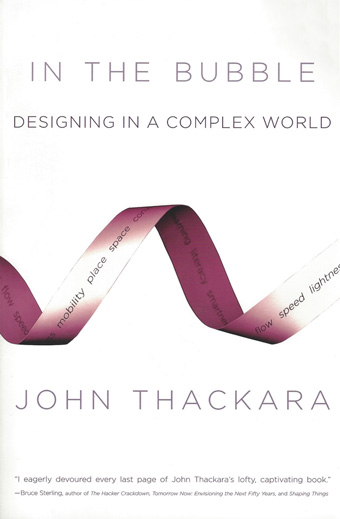 Publisher: The MIT Press
332 pp. Paperback
9780262701150
Published: February 17, 2006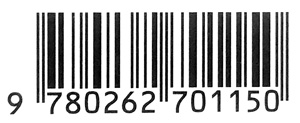 In the Bubble
Designing in a Complex World
We're filling up the world with technology and devices, but we've lost sight of an important question: What is this stuff for? What value does it add to our lives? In the Bubble is about a world based less on stuff, and more on people.
In the Bubble is about a world based less on stuff and more on people. Thackara describes a transformation that is taking place now—not in a remote science fiction future; it's not about, as he puts it, "the schlock of the new" but about radical innovation already emerging in daily life. We are regaining respect for what people can do that technology can't. In the Bubble describes services designed to help people carry out daily activities in new ways. Many of these services involve technology—ranging from body implants to wide-bodied jets. But objects and systems play a supporting role in a people-centered world. The design focus is on services, not things. And new principles—above all, lightness—inform the way these services are designed and used. At the heart of In the Bubble is a belief, informed by a wealth of real-world examples, that ethics and responsibility can inform design decisions without impeding social and technical innovation.
"John Thackara's brilliant book about quotidian design describes innovation driven by social fiction instead of science fiction." Paul Hawken
Design with a conscience: that's the take-home message of this important, provocative book. John Thackara, long a major force in design, now takes on an even more important challenge: making the world safe for future inhabitants. We need, he says, to design from the edge, to learn from the world, and to stop designing for, but instead design with. If everyone heeded his prescriptions, the world would indeed be a better place. Required reading—required behavior. Don Norman, Nielsen Norman Group
Translations, In The Bubble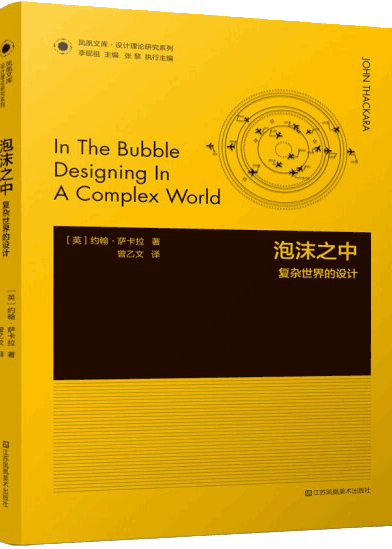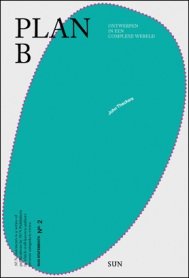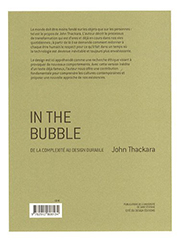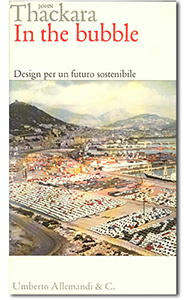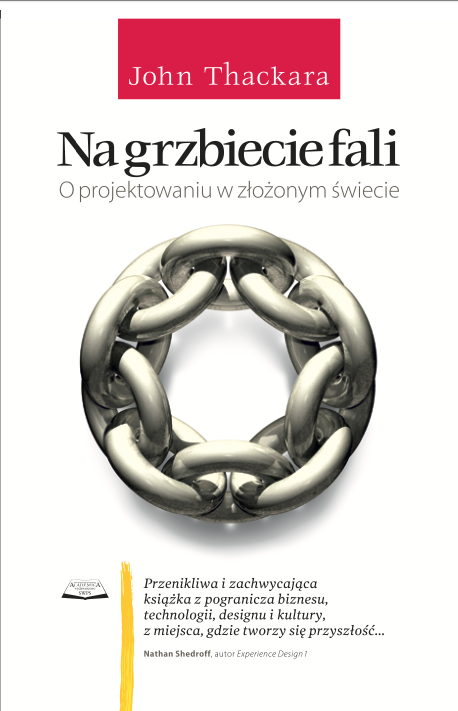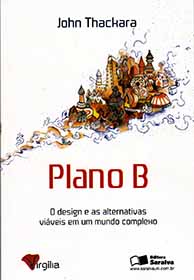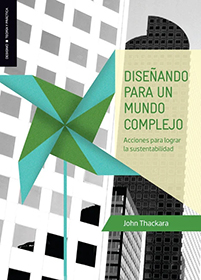 Pathways to Urban-Rural Reconnection
First published in China in 2019, this
paper
argues that a metabolic rift, which runs through the economy and culture, distracts our attention from care for the biosphere. To heal the metabolic rift, a shared purpose is needed that diverse groups people can relate to, and support. Care for the bioregion – or bioregioning – is a a strong candidate for that shared purpose. The reconnection of urban and rural ecosystems, and social infrastructures, enable the emergence of new enterprises.
Pathways to Urban-Rural Reconnection
(French translation/traduction by Annelies Hollewand)
Wouldn't it be great if …
The DOTT Manual
Our Planet Tonight. ThingLink. Car-Free Mobility. Mapping Landscapes. Low-Carb Lane. Eco Design Challenge. Our New School. better Lives With Dementia. Urban Farming. Our Cyborg Future. Design projects that explored what life in a sustainable region could be like – and how design can help us get there.
Published by Designs of the time (Dott 07), the UK's social innovation biennial; the author was its Commissioner.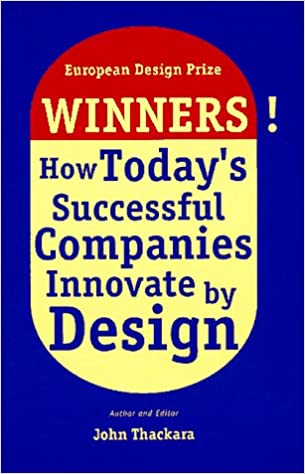 Winners!
How Today's Successful Companies Innovate By Design
49 company case studies, in 32 sectors from 15 countries
55 checklists and charts about trends, ratios, statistics
162 books, websites, periodicals selected for your library
74 national and overall winners of the European Design Prize
"fascinating…best practice as the smartest way to beat the competition" Financial Times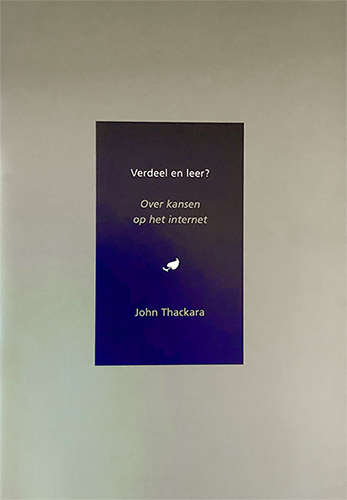 New Geographies of Learning
Verdeel en leer? Over kansen op het internet
Amsterdam:
University of Professional Education (HvA), 2003.
First published in Dutch as
Verdeel en leer? Over kansen op het internet (2000)
Clean Growth
From Mindless Development, to Design Mindfulness
This "White Paper" has been commissioned as part of a series whose aim is to stimulate thought and debate in the context of Design Innovation Scotland, which is a unique partnership of academia, business and the public sector with the common vision of developing radical solutions to real-world challenges.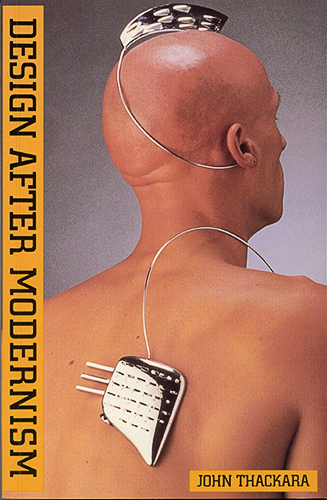 Design After Modernism
Beyond the Object
(ed)
London, Thames and Hudson, 1988
Japanese edition, Tokyo, Kajima, 1992
With essays by Marshall Berman, Kenneth Frampton, Christopher Alexander, Peter Fuller, Peter Dormer, Jean Baudrillard, John Chris Jones, Peter York and others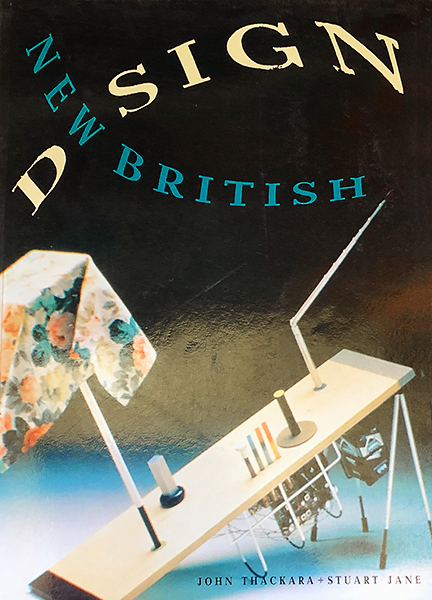 New British Design
How Today's Successful Companies Innovate By Design
Co-edited with Stuart Jane.
London, Thames and Hudson, 1987
Published in a book for the first time are Ron Arad, Fred Baier, Judy Blame, Tom Dixon, James Dyson, Georgina von Etzdorf, John Galliano, Jasper Morrison, Paul Priestman, John Richmond, Seymour Powell, Daniel Weil and others.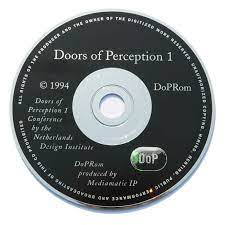 Doors of Perception CDRom; co-editor with
K. van Riet
and W. Velthoven
Amsterdam: Mediamatic, 1994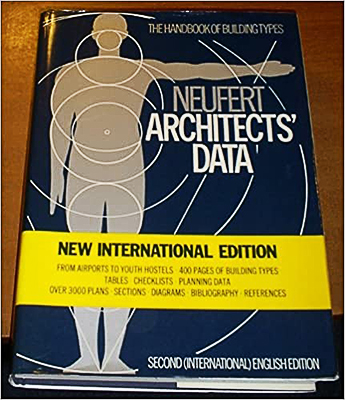 (ed. John Thackara, Vincent Jones) London: Wiley, 1992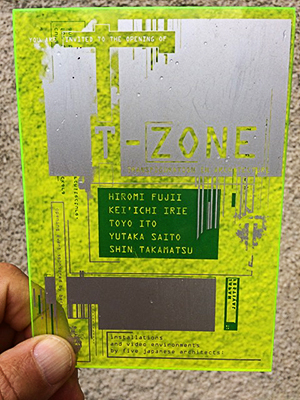 Co-edited with Riiche Miyake, Brussels: Europalia
(with Architectural Association), 1991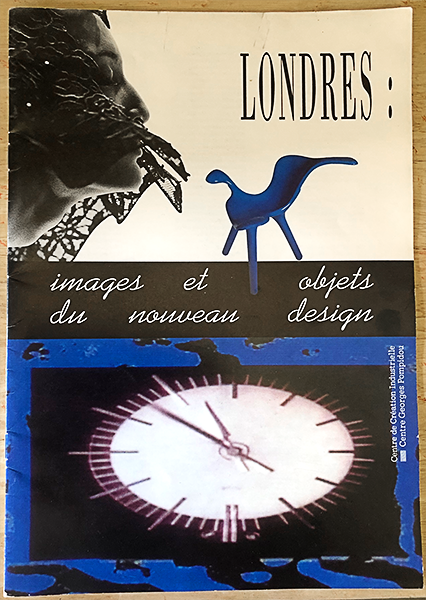 (ed). Paris: Centre Pompidou, 1990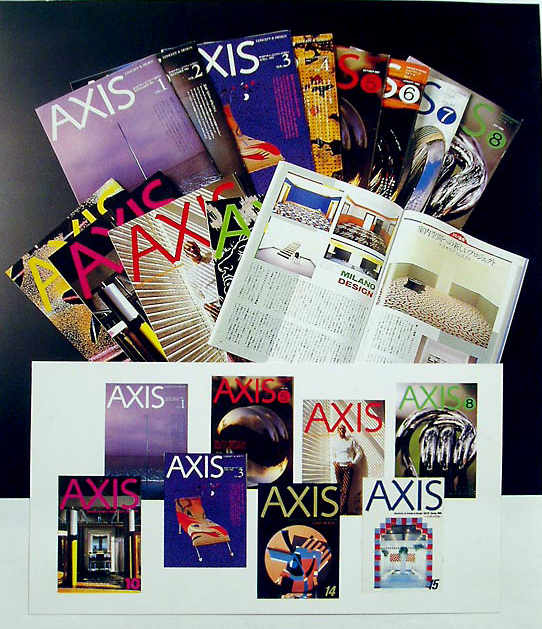 Leading Edge, Axis Magazine, Japan 90's