Handouts & Lists
Although we've allowed the metabolic interaction between man and the earth to wither, educators are working on a cure.
For a Doors of Perception Xskool in 2014, I prepared this reading list for designers, artists and architects. Its divided into four parts: Big Picture, Small Picture, Design Opportunities, and Knowledge Sharing
Do you simply love iPhones, wind turbines, cloud computing, and electric cars? Good, because the following may be of interest:
A big part of social innovation involves connecting people with each other in ways that are inclusive, uncomplicated, inexpensive, and joyful.
By
admin
|
Published:
January 7, 2014
We hope these selected lists and texts may be useful. [To save/select as a pdf: open the handout; hit "print"; there should be a "Save as PDF" button on your print screen]
Health and wellbeing are properties of social-ecological systems – so how you design in those?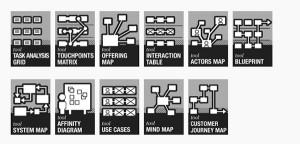 Books, networks, blogs, tools, events – and a wiki
Including a physicist, a mathematician, an actuary, an ecologist, a stoic, and a Druid.
From fish smokers to button makers – there's so much to do.